PowerDVD 20 Ultra
About the Software
PowerDVD does more than playback Blu-ray and DVD movies.
It's an all-in-one, premium multimedia player that organizes and plays your full collection of video, music, and photos. Better yet, you can take your media collection to your private CyberLink Cloud, enjoying it anywhere, on any device, and even sharing it with your friends and family
Key features
Seamless Playback NEW

Seamlessly continue watching from the exact point where you left off, in any room, and any device you have.

Watch on-the-go New

Take your Movies and TV Shows anywhere by using the CyberLink cloud. Or download to your mobile device to resume watching offline

Share with Family & Friends

It's easier than ever to share your favorite movies or shows. With CyberLink's new cloud space, upload your video, copy the link, then share! There's no need for account signup or app download.

All Your Entertainment Across Devices & Screens New

Redefining your entertainment experience with the ability to view wirelessly, cast to TV devices, or use on-the-go streaming, to watch your videos on-demand, from any device, in any place.

Entertainment on PC

Watch your favorite videos on PC using the all-in-one media player with the industry's widest support of file formats as well as Ultra HD Blu-ray and 8K video.

On the Big Screen Enhanced

Upgrade your home cinema experience with stunning 8K video and support for 4K, HDR 10. Use the built-in TV Mode to intuitively browse your media collection.

Wireless Casting Enhanced

Stream your videos and TV shows to your TV using any leading casting device such as Apple TV®, Fire TV™, Chromecast™, or Roku®.

Better-than-Original Quality Audio & Video Playback

CyberLink's unique TrueTheater audio-visual enhancement technology is exclusive tech that instantly upgrades the quality of all videos, including Blu-ray, HD and 360º content you watch so that you can truly enjoy them on your home theater system. It can even make Ultra HD 4K video look even better!

The Ultimate Cinema-grade Sound at Home

PowerDVD lets you get the most out of your home audio setup with support for master-quality sound technology from the leaders in professional digital audio—Dolby and DTS. Enjoy the acoustic difference of specialized multichannel audio and lossless audio formats such as FLAC and DSD.
system requirements
Windows - Minimum
Operating System: Windows 10/8.1/8/7
Disc Drive: DVD drive to play DVDs and CDs, Blu-ray drive to play Blu-ray Discs
Display Devices: HDCP compliant display for Blu-ray playback
Memory: 4 GB (6GB Recommended) RAM
Hard Disk Space: 1GB
Graphics Support: NVIDIA GTX 10 series; Intel 7th Generation Core i7 (Kaby Lake) with HD (UHD) Graphics 630. 8K video output: GPU and 8K monitor with DisplayPort 1.4 or HDMI 2.1 support.
Audio Support: PCI sound card or on-board audio output
Processor: Intel® Core2 Duo CPU 4500 @ 2.20GHz
Internet Connection: Required for initial software activation, video codec activation and social media services
Format support
Movies: BD-R 1.1/BD-RE 2.1, BD-R 2.0/BD-RE 3.0, BDROM 2.2, BD-J, BDROM Profile 1.1 (Bonus View), BDROM Profile 2.0 (BD-Live), BDROM Profile 6.0 (Ultra HD Blu-ray), AVCREC, AVCHD XAVC-S, DVD-Video, DVD-VR, DVD+VR, VCD,SVCD, CD, BD ISO, DVD ISO.
Videos: 264, 265, 26L, 3G2, 3GP, 3GP2, 3GPP, ASF, AVC, AVI, BSF, DIV, DIVX, DVR-MS, FLV1, H264, H265, HEVC, JSV, JVT, M1V, M2P, M2T, M2TS, M2V, M4V, MKV, MOD, MOV1, MP4, MP4V, MPE, MPEG, MPG, MPV, MTS, QT, TOD, TP, TPD, TRP, TS, TTS, VC1, VOB, VRO, WM, WMV, WTV2, WEBM((VP9 + Opus/Vorbis)), H.265 in MP4, MKV and M2TS, VP9 in WEBM.
Photos: BMP, JPEG, JPG, PNG, TIF, TIFF, ARW, CR2, CRW, DCR, DNG, ERF, KDC, MEF, MRW, NEF, ORF, PEF, RAF, RAW, RW2, SR2, SRF, X3F, GIF, HEIC/HEIF
Music: AAC3, AC3, ADTS3, AOB, APE, DTS, FLAC4, M4A (AAC, ALAC codec), MID, MKA, MP2, MP3, MPA, OGG, RMI, WAV, WMA, DSD Audio (DSF, DFF)
Required configuration
Windows - Minimum
Operating System: Windows 10/8.1/8/7
Disc Drive: DVD drive to play DVDs and CDs, Blu-ray drive to play Blu-ray Discs
Display Devices: HDCP compliant display for Blu-ray playback
Memory: 4 GB (6GB Recommended) RAM
Hard Disk Space: 1GB
Graphics Support: NVIDIA GTX 10 series; Intel 7th Generation Core i7 (Kaby Lake) with HD (UHD) Graphics 630. 8K video output: GPU and 8K monitor with DisplayPort 1.4 or HDMI 2.1 support.
Audio Support: PCI sound card or on-board audio output
Processor: Intel® Core2 Duo CPU 4500 @ 2.20GHz
Internet Connection: Required for initial software activation, video codec activation and social media services
Format support
Movies: BD-R 1.1/BD-RE 2.1, BD-R 2.0/BD-RE 3.0, BDROM 2.2, BD-J, BDROM Profile 1.1 (Bonus View), BDROM Profile 2.0 (BD-Live), BDROM Profile 6.0 (Ultra HD Blu-ray), AVCREC, AVCHD XAVC-S, DVD-Video, DVD-VR, DVD+VR, VCD,SVCD, CD, BD ISO, DVD ISO.
Videos: 264, 265, 26L, 3G2, 3GP, 3GP2, 3GPP, ASF, AVC, AVI, BSF, DIV, DIVX, DVR-MS, FLV1, H264, H265, HEVC, JSV, JVT, M1V, M2P, M2T, M2TS, M2V, M4V, MKV, MOD, MOV1, MP4, MP4V, MPE, MPEG, MPG, MPV, MTS, QT, TOD, TP, TPD, TRP, TS, TTS, VC1, VOB, VRO, WM, WMV, WTV2, WEBM((VP9 + Opus/Vorbis)), H.265 in MP4, MKV and M2TS, VP9 in WEBM.
Photos: BMP, JPEG, JPG, PNG, TIF, TIFF, ARW, CR2, CRW, DCR, DNG, ERF, KDC, MEF, MRW, NEF, ORF, PEF, RAF, RAW, RW2, SR2, SRF, X3F, GIF, HEIC/HEIF
Music: AAC3, AC3, ADTS3, AOB, APE, DTS, FLAC4, M4A (AAC, ALAC codec), MID, MKA, MP2, MP3, MPA, OGG, RMI, WAV, WMA, DSD Audio (DSF, DFF)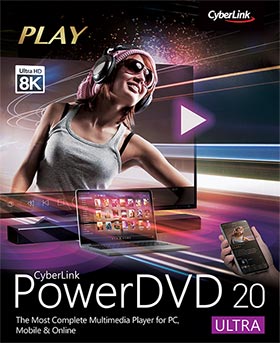 Language:

English

Genre:

Platform:

Win 7 32/64 bits Win 8.1 32/64 bits Win 10 32/64 bits

Release date:

2020-04-14

Publisher