PowerDVD 20 Pro
About the Software
PowerDVD plays more than just DVD and Blu-ray discs.
It is an all-round multimedia player for downloads, movies, videos, audio, photos, and even YouTube or Vimeo. Enjoy all your favorite movies and premium videos in better-than-original quality, including 4K video, in your home theater with support for all the most popular file formats and codecs.
Key features
YouTube – Watch 4K, Live & Pin to Watch Offline

With PowerDVD, you can watch YouTube Live streaming, Pin YouTube videos for offline playback, and play YouTube Full HD and 4K videos.

Better-than-Original Quality Audio & Video Playback

CyberLink's unique TrueTheater audio-visual enhancement technology is exclusive tech that instantly upgrades the quality of all videos, including Blu-ray, HD, and even Ultra HD 4K video.

The Ultimate Cinema-grade Sound at Home

PowerDVD lets you get the most out of your home audio setup with support for master-quality sound technology from the leaders in professional digital audio—Dolby and DTS. Enjoy the acoustic difference of specialized multichannel audio and lossless audio formats such as FLAC and DSD.

Support for All Popular File Formats

Play all popular file formats & codecs, with a comprehensive file format & codec support for videos, photos & music files.

Get More Blu-ray Disc Playback

Play it all, no matter if you want to enjoy the latest Hollywood blockbuster or a classic from your collection. Plus, you can now watch with multiple downloaded subtitle files at once.

Always on Top Mini View

Never miss a moment of your favorite YouTube Live streams with this minimalist viewing mode.

View Movie and TV Media Info NEW

Now access detailed information about movies and TV shows with PowerDVD's new, extensive content database.
system requirements
Windows - Minimum
Operating System: Windows 10/8.1/8/7
Disc Drive: DVD drive to play DVDs and CDs, Blu-ray drive to play Blu-ray Discs
Display Devices: HDCP compliant display for Blu-ray playback
Memory: 4 GB (6GB Recommended) RAM
Hard Disk Space: 1GB
Graphics Support: NVIDIA GTX 10 series; Intel 7th Generation Core i7 (Kaby Lake) with HD (UHD) Graphics 630. 8K video output: GPU and 8K monitor with DisplayPort 1.4 or HDMI 2.1 support.
Audio Support: PCI sound card or on-board audio output
Processor: Intel® Core2 Duo CPU 4500 @ 2.20GHz
Internet Connection: Required for initial software activation, video codec activation and social media services
Format support
Movies: BD-R 1.1/BD-RE 2.1, BD-R 2.0/BD-RE 3.0, BDROM 2.2, BD-J, BDROM Profile 1.1 (Bonus View), BDROM Profile 2.0 (BD-Live), BDROM Profile 6.0 (Ultra HD Blu-ray), AVCREC, AVCHD XAVC-S, DVD-Video, DVD-VR, DVD+VR, VCD,SVCD, CD, BD ISO, DVD ISO.
Videos: 264, 265, 26L, 3G2, 3GP, 3GP2, 3GPP, ASF, AVC, AVI, BSF, DIV, DIVX, DVR-MS, FLV1, H264, H265, HEVC, JSV, JVT, M1V, M2P, M2T, M2TS, M2V, M4V, MKV, MOD, MOV1, MP4, MP4V, MPE, MPEG, MPG, MPV, MTS, QT, TOD, TP, TPD, TRP, TS, TTS, VC1, VOB, VRO, WM, WMV, WTV2, WEBM((VP9 + Opus/Vorbis)), H.265 in MP4, MKV and M2TS, VP9 in WEBM.
Photos: BMP, JPEG, JPG, PNG, TIF, TIFF, ARW, CR2, CRW, DCR, DNG, ERF, KDC, MEF, MRW, NEF, ORF, PEF, RAF, RAW, RW2, SR2, SRF, X3F, GIF, HEIC/HEIF
Music: AAC3, AC3, ADTS3, AOB, APE, DTS, FLAC4, M4A (AAC, ALAC codec), MID, MKA, MP2, MP3, MPA, OGG, RMI, WAV, WMA, DSD Audio (DSF, DFF)
Required configuration
Windows - Minimum
Operating System: Windows 10/8.1/8/7
Disc Drive: DVD drive to play DVDs and CDs, Blu-ray drive to play Blu-ray Discs
Display Devices: HDCP compliant display for Blu-ray playback
Memory: 4 GB (6GB Recommended) RAM
Hard Disk Space: 1GB
Graphics Support: NVIDIA GTX 10 series; Intel 7th Generation Core i7 (Kaby Lake) with HD (UHD) Graphics 630. 8K video output: GPU and 8K monitor with DisplayPort 1.4 or HDMI 2.1 support.
Audio Support: PCI sound card or on-board audio output
Processor: Intel® Core2 Duo CPU 4500 @ 2.20GHz
Internet Connection: Required for initial software activation, video codec activation and social media services
Format support
Movies: BD-R 1.1/BD-RE 2.1, BD-R 2.0/BD-RE 3.0, BDROM 2.2, BD-J, BDROM Profile 1.1 (Bonus View), BDROM Profile 2.0 (BD-Live), BDROM Profile 6.0 (Ultra HD Blu-ray), AVCREC, AVCHD XAVC-S, DVD-Video, DVD-VR, DVD+VR, VCD,SVCD, CD, BD ISO, DVD ISO.
Videos: 264, 265, 26L, 3G2, 3GP, 3GP2, 3GPP, ASF, AVC, AVI, BSF, DIV, DIVX, DVR-MS, FLV1, H264, H265, HEVC, JSV, JVT, M1V, M2P, M2T, M2TS, M2V, M4V, MKV, MOD, MOV1, MP4, MP4V, MPE, MPEG, MPG, MPV, MTS, QT, TOD, TP, TPD, TRP, TS, TTS, VC1, VOB, VRO, WM, WMV, WTV2, WEBM((VP9 + Opus/Vorbis)), H.265 in MP4, MKV and M2TS, VP9 in WEBM.
Photos: BMP, JPEG, JPG, PNG, TIF, TIFF, ARW, CR2, CRW, DCR, DNG, ERF, KDC, MEF, MRW, NEF, ORF, PEF, RAF, RAW, RW2, SR2, SRF, X3F, GIF, HEIC/HEIF
Music: AAC3, AC3, ADTS3, AOB, APE, DTS, FLAC4, M4A (AAC, ALAC codec), MID, MKA, MP2, MP3, MPA, OGG, RMI, WAV, WMA, DSD Audio (DSF, DFF)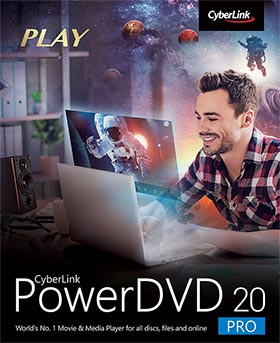 Language:

English

Genre:

Platform:

Win 7 32/64 bits Win 8.1 32/64 bits Win 10 32/64 bits

Release date:

2020-04-14

Publisher