Stellar Data Recovery Professional - Mac v11 1- PC
Stellar Data Recovery Professional - Mac v11 1- PC
License & Validity: 1 PC 1 Year Subscription
About the Software
Powerful Data Recovery Software for Mac
Leverage Stellar Data Recovery Professional v11.0 for restoring lost data in vast scenarios, ranging from accidental deletion to lost or corrupt partition and drive formatting. The software also restores data from crashed Mac and 4K/2K drives with large sectors offering you peace of mind in tough situations when you're unable to boot and access the Mac startup volume.
The tool can recover any file format without limitation across Big Sur, Catalina, Mojave, and previous macOS versions and offers seamless support for APFS, HFS+, FAT, & NTFS formatted drives. Now supports recovery from FileVault-encrypted APFS drives, and offers powerful Quick Scan and Deep Scan modes, enabled via customizable recovery. The software puts you in control, allowing recovery of what you want in the least possible time.
Its GUI enables a familiar macOS-like experience, facilitating effortless recovery through a seamless design, unified interface & effortless recovery action. Further, the tool also comprises an add-on SMART Drive Monitor utility for tracking the hard drive's health and performance. The drive monitor utility can also perform cloning of disks with bad sectors to allow safe and fast data recovery. Having Stellar® data recovery tool by your side ensures comprehensive data care for all your Mac devices and drives.
Key features
Recover Permanently Deleted Files

Recover Permanently Deleted Files The professional data recovery software for Mac can recover documents, images, movies, audio, & emails emptied from Trash. It scans Mac startup disk to restore deleted Word, PowerPoint, Excel documents & files of native apps such as Photos, iMovie, GarageBand, Pages, Numbers, Keynote, etc., to a location of your choice.

Recover from All Your Mac Devices

Stellar Mac data recovery tool supports MacBook Pro, MacBook Air, iMac, Mac mini, etc. It recovers from SSD, HDD, SD card, and you can trust the tool across all macOS versions while enjoying full compatibility with APFS, HFS+, FAT, & NTFS drives. Also supports recovery from FileVault-encrypted APFS drives and 4K/2K drives.

Recover Unlimited File Formats with Ease

The Mac file recovery software can restore any file format without limitation. It allows you to include new or custom file formats in the already exhaustive list of file formats supported by the software. The tool reads file header information and uses a file signature-based technique to easily recover any file format.

Recover Data from Crashed Mac

A Mac device can crash or face problems like 'spinning beach ball of death' or 'grey screen of death'. The software helps in recovering data from crashed Mac by allowing you to create a bootable USB recovery drive, thus facilitating direct access to the startup disk of crashed Mac for scanning & data recovery.

Restore Data Lost Due to Formatting

Stellar Mac data recovery software can deep scan formatted storage partition or volume to recover the lost data. It uses a file signature-based search technique to locate the lost data fragments and stitch them together as a whole, integrated unit.

Regain Data from Lost or Corrupt Partition

The data recovery software for Mac specializes in retrieving files lost due to partition corruption, partition deletion, improper partition resizing, bad sectors, or file system corruption, etc. The tool can also help regain data from accidentally deleted Boot Camp partition.

Dual Mode Scanning to Suit Your Needs

The tool comes equipped with 'Quick Scan' and 'Deep Scan' modes to facilitate effortless recovery in any data loss situation. Quick Scan ensures that you can scan storage devices faster and recover data in the least possible time. The Deep Scan function is best-suited for recovering data in cases such as formatted partition.

Use Disk Imaging for Fast & Secure Recovery

Mac file recovery software from Stellar creates an image of the hard drive having bad sectors to allow faster & secure recovery of data, without any risk of loss due to abrupt failure of the source drive. Disk imaging feature helps retrieve data from drives that are prone to failure & cannot sustain direct data recovery procedures.

Enjoy Customizable Recovery via Familiar GUI

The software can run customized recovery by allowing you to choose specific file types - document, email, photo, video, etc. & storage drive or partition, enabling faster data recovery. The software GUI seamlessly maps into macOS experience by way of its seamless design & unified interface, enabling effortless recovery.

Preview Files before Saving Them

The software displays a preview of all recoverable files in a neatly laid out Tree structure to help you verify and select the required data or files for recovery. The Preview pane is organized in a manner that eases the selection of specific file types once you've ascertained their recoverability.

Scan Now, Recover Anytime

The Mac file recovery tool allows saving the storage drive scan result as a file that can be reloaded later through the software to resume the data recovery process. This feature adds to the convenience of recovering large-sized files, as you can complete the process through multiple sessions.

Drive Health Monitoring and Cloning

Stellar Drive Monitor included with the software keeps track of drive Temperature, Performance, and Health. Scan Disk module in the drive monitor utility scans & reports bad sectors in the hard disk. Clone Disk feature creates a replica of the affected drive for performing secure recovery.
system requirements
Mac - Minimum
Operating System: macOS Big Sur 11, Catalina 10.15, Mojave 10.14, 10.13, 10.12 & 10.11
Processor: Intel-compatible (x86, x64)
Memory: 4 GB RAM, Recommended 8 GB
Hard Disk: 250 MB of free space
Languages: English, French, German, Italian, Spanish, Japanese
Required configuration
Mac - Minimum
Operating System: macOS Big Sur 11, Catalina 10.15, Mojave 10.14, 10.13, 10.12 & 10.11
Processor: Intel-compatible (x86, x64)
Memory: 4 GB RAM, Recommended 8 GB
Hard Disk: 250 MB of free space
Languages: English, French, German, Italian, Spanish, Japanese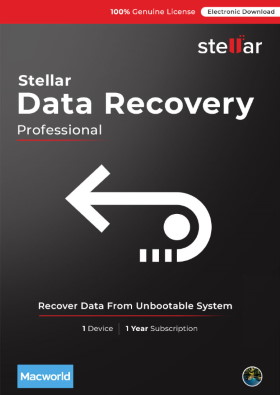 Language:

English

Genre:

Platform:

Release date:

2021-08-30

Publisher