PowerDirector 16 Ultra & PhotoDirector 9 Ultra Duo
PowerDirector 16 Ultra & PhotoDirector 9 Ultra Duo
PowerDirector Ultra & PhotoDirector Ultra
Items included in this package:
PowerDirector 16
PhotoDirector 9
360º Video Editing: End-to-End 360º Editing
CyberLink Cloud Service: 50GB/1 year
WaveEditor Express
Effects & Templates

Content Pack Essential
Content Pack Premium
Content Pack Premium 2
Content Pack Premium 3 NEW
Wedding Pack
Holiday Pack 8 NEW
BorisFX Film Style NEW
BorisFX Stylize NEW
NewBlue Video Essentials 1
NewBlue Titler Pro v1.5
proDAD Adorage 2
proDAD Adorage 13 Lite
proDAD VitaScene 2 LE
About the Software
Create anything you can imagine with the ultimate video and photo editing combo. Featuring a wide range of easy-to-use and customizable features, including 360º video and photo editing, the creative applications are truly limitless. Beginner or professional, anyone can create stunning video and photo art.
Key features
PowerDirector 16: Video Editing
Express Projects makes it quick & easy to create pro-grade videos
Create unique collages with up to 7 videos using Collage Designer NEW
Color Match analyzes & applies a color scheme across entire clips NEW
Action Camera Center has all the tools for pro-grade action videos
Advanced Vertical Video editing tools for all your mobile shots
PhotoDirector 9: Photo Editing
Transform videos into GIFs, engaging and fun animated images NEW
Blending Modes for combining multiple photos into stunning single shots NEW
Face Swap for perfect group photos, every time using Video-to-Photo
Skin Smoothening to removing wrinkles, blemish and more
Complete 360º Editing
The world's first consumer level 360º Video Stabilization NEW
End-to-end 360º video editing, now with Titles and Tracking NEW
Edit 360º footage into conventional videos, just like you had multiple cameras at every angle with View Designer
Create breathtaking Panorama's & Little Planets from 360º photos NEW
system requirements
Windows - Minimum
Operating System: Windows 10/8.1/8/7
Screen Resolution: 1024 x 768, 16-bit color
Memory: 2GB required, 3GB for 32 bit OS, 6GB for 64 bit OS
Hard Disk Space: 8 GB required
Graphics Support: 128 MB-VRAM, DirectX 11 (360 editing)
Processor: Intel Core™ i-Series or AMD Phenom® II
Internet Connection: Required for initial software activation, video codec activation and social media services
Format support
Video (Import): Conventional Video: MVC (MTS), FLV, MKV, AVCHD (M2T/MTS), AVI, DivX, MOV (H.264/alpha PNG), MP4 (XAVC-S/ H.264/ H.265/HEVC), WMV, VOB
360 Video: Equirectangular format MP4 (H.264/265). Supports up to 4K resolution in 2:1 aspect ratio.
Video (Export): Conventional Video: AVCHD 3D/Progressive, XAVC-S, H.265/HEVC, H.264/AVC, MKV with Dolby Digital/LPCM audio, MPEG-2 (.MPG) with Dolby Digital audio, MPEG-2 TS with Dolby Digital/LPCM audio, MP4 MPEG-4 AVC (.MP4) with AAC/Dolby Digital audio, MOV, WMV with WMA audio, DV-AVI (.AVI) with PCM audio
360 Video: Equirectangular format MP4 (H.264)
Disc Export Blu-ray, AVCHD, DVD
Audio (Import): AAC, ALAC, Dolby Digital, Dolby Digital Plus, DTS, WAVE, MPEG-1 Layer III, FLAC
Audio (Export): MP3, AAC (.M4A), WMA, LPCM (.WAV)
Photo (Import): MPO, JPS, RAW, GIF, BMP, JPG, TIFF, PNG, PHI, Animated GIF
Photo (Export): JPG, TIFF, PNG, PHI, Animated GIF
Required configuration
Windows - Minimum
Operating System: Windows 10/8.1/8/7
Screen Resolution: 1024 x 768, 16-bit color
Memory: 2GB required, 3GB for 32 bit OS, 6GB for 64 bit OS
Hard Disk Space: 8 GB required
Graphics Support: 128 MB-VRAM, DirectX 11 (360 editing)
Processor: Intel Core™ i-Series or AMD Phenom® II
Internet Connection: Required for initial software activation, video codec activation and social media services
Format support
Video (Import): Conventional Video: MVC (MTS), FLV, MKV, AVCHD (M2T/MTS), AVI, DivX, MOV (H.264/alpha PNG), MP4 (XAVC-S/ H.264/ H.265/HEVC), WMV, VOB
360 Video: Equirectangular format MP4 (H.264/265). Supports up to 4K resolution in 2:1 aspect ratio.
Video (Export): Conventional Video: AVCHD 3D/Progressive, XAVC-S, H.265/HEVC, H.264/AVC, MKV with Dolby Digital/LPCM audio, MPEG-2 (.MPG) with Dolby Digital audio, MPEG-2 TS with Dolby Digital/LPCM audio, MP4 MPEG-4 AVC (.MP4) with AAC/Dolby Digital audio, MOV, WMV with WMA audio, DV-AVI (.AVI) with PCM audio
360 Video: Equirectangular format MP4 (H.264)
Disc Export Blu-ray, AVCHD, DVD
Audio (Import): AAC, ALAC, Dolby Digital, Dolby Digital Plus, DTS, WAVE, MPEG-1 Layer III, FLAC
Audio (Export): MP3, AAC (.M4A), WMA, LPCM (.WAV)
Photo (Import): MPO, JPS, RAW, GIF, BMP, JPG, TIFF, PNG, PHI, Animated GIF
Photo (Export): JPG, TIFF, PNG, PHI, Animated GIF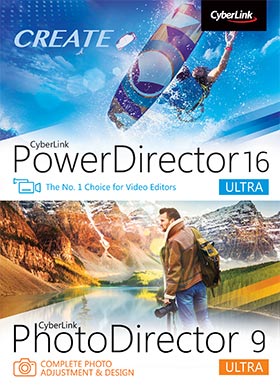 Language:

English

Genre:

Platform:

Win 7 32/64 bits Win 8 32/64 bits Win 8.1 32/64 bits Win 10 32/64 bits

Release date:

2017-12-01

Publisher