DENOISE projects professional
DENOISE projects professional
ABOUT THE SOFTWARE
---
Professional Denoising and Sharpening.
DENOISE projects professional
expands your scope as a photographer, enabling you to create fascinating twilight, wildlife, event, underwater and astro images as well as available light shots. DENOISE projects is currently the only available software that removes all seven forms of image noise: luminance noise, color noise, banding, color clouds, hot pixels, salt & pepper as well as holes. The completely newly developed Smart Pattern Matching noise technology perfectly removes noise from your images while still keeping the colors, sharpness and finest details.
Up to 12,800 ISO and higher!
DENOISE projects expands your photographic options: you can turn difficulty lit shots into absolute stunners, for example fascinating night scenes, romantic candlelight, portraits without flash, concert, underwater or astro situations and even landscape images!
KEY FEATURES
---
Your special features in DENOISE projects professional:
Noise stacking module with highly precise alignment
Batch processing with fully automatically optimized denoising
Complete RAW converter including distortion correction
DENOISE projects professional Top Highlights
New: Smart Pattern Matching Technology for brilliant and noise free images in unique quality
Applicable for up to 12,800 ISO and higher!
Optimized denoising of RAW and JPEG images
Scratch and sensor error corrector
43 Expert filters: sharpen ultra HD, restore details, HD denoising
1:1 Magnified view to compare image quality and for complete control
Stand-alone application for Windows and Mac OS
Includes Adobe Photoshop plug-in and interface for Adobe Lightroom
Only in DENOISE projects professional
Batch processing with fully automatically optimized denoising
Complete RAW converter including distortion correction
Noise stacking with highly precise alignment of individual images (light frames, dark frames, flat frames methods)
SYSTEM REQUIREMENTS
---
Windows
Windows 10/8.1/8/7/Vista (32/64 bit)
Dual Core Processor
2 GB RAM
2 GB HDD
Screen Resolution 1280 x 1024 Pixels
Graphic Card: DirectX-8-compatible, 128 MB, 32 bit color depth
Mac
Mac OS X 10.7 and higher (64 bit)
Intel Processor/G5
2 GB RAM
2 GB HDD
Screen Resolution 1280 x 1024 Pixels
Required configuration
Windows
Windows 10/8.1/8/7/Vista (32/64 bit)
Dual Core Processor
2 GB RAM
2 GB HDD
Screen Resolution 1280 x 1024 Pixels
Graphic Card: DirectX-8-compatible, 128 MB, 32 bit color depth
Mac
Mac OS X 10.7 and higher (64 bit)
Intel Processor/G5
2 GB RAM
2 GB HDD
Screen Resolution 1280 x 1024 Pixels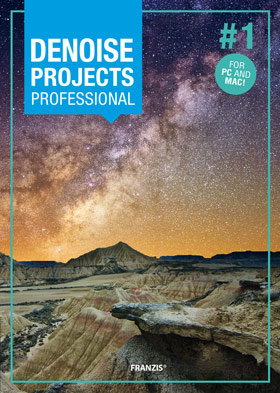 Language:

English

Genre:

Platform:

Vista Win 7 32/64 bits Win 8 32/64 bits Win 8.1 32/64 bits Win 10 32/64 bits

Mac OS X

Release date:

2016-06-15

Publisher