Stellar Speedup Mac 4.0
License & Validity: 1 PC 1 Year Subscription
About the Software
Stellar brings you v4.0 of SpeedUp Mac, a software especially designed for optimizing all-round performance of Mac devices running on macOS Catalina or older macOS versions.
The software removes unwanted large & duplicate files, cache, language pack, applications, extension files & more from boot and non-boot volumes, thus cleaning up memory and storage space for boosting system performance.
The software can uninstall applications and delete undesired files by simple drag-and-drop action, and offers filters to refine the search for duplicate or large files. Further, you can use the tool as a 'daily' performance booster for your Mac by using scheduler preferences to perform SpeedUp Mac tasks at a desired Time and frequency. Offering hassle-free usage through a familiar Mac like experience, the tool can serve as the best companion for all your Mac devices.
Key features
Removes Junk & Large Duplicate Files
Deletes unwanted log files, system junk, trash and leftovers, old files, universal binaries, Internet cache files & more to free up space on Macintosh storage drive and enhance system performance. Provides various filters to refine the search for removing large or duplicate files.
Uninstalls Unwanted or Unused Applications
Serves as an Uninstaller tool for removing undesired applications, widgets, and plug-ins from Mac system. Offers simple drag-and-drop utility for removing apps and plug-ins, and allows to search and erase duplicate files and language packs from Mac.
Optimizes System Memory
Stellar SpeedUp Mac application can refresh and cleanup the system memory by removing memory pages that are no longer required. Through Memory Optimizer button it shows details of used and unused capacity out of the total memory before you decide to clean up the redundant pages.
Speeds up System Booting Speed
The application can disable login items such as frequently-used application, document, server's Internet Location file, or other items which auto-start at boot. It offers checkbox based functionality to select and remove unnecessary login items, thus speeding up Mac booting process.
Cleans Up Removable Media
Stellar SpeedUp Mac can also remove junk files from removable storage media such as USB hard drive and SD card when connected to the Mac system. Having the tool installed on Mac can ensure optimal utilization of storage space across startup volume, non-boot volume, and USB drives.
system requirements
Windows - Minimum
Processor: Intel
Operating System: macOS 10.9 and above
Memory (RAM): Minimum: 2 GB, Recommended: 4 GB
Hard Disk: 250 MB of Free Space
License Validity: 1 Year Subscription
Required configuration
Windows - Minimum
Processor: Intel
Operating System: macOS 10.9 and above
Memory (RAM): Minimum: 2 GB, Recommended: 4 GB
Hard Disk: 250 MB of Free Space
License Validity: 1 Year Subscription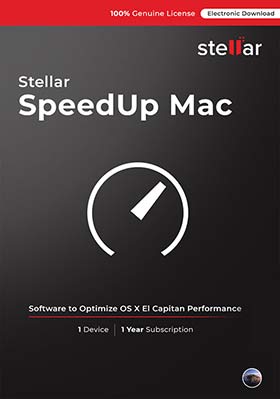 Language:

English

Genre:

Platform:

Release date:

2020-04-30

Publisher