Thinkfree Office NEO Home ESD
Thinkfree Office NEO Home ESD
ABOUT THE SOFTWARE
---
For many people, the desktop is where it all happens: you create and edit documents; you model financial scenarios on spreadsheets; you build compelling presentations. You could use a professionalquality tool such as Microsoft Office to accomplish these tasks – or you could save a lot of money and achieve the same professional results using Thinkfree Office NEO.
Thinkfree Office NEO
provides you with the core content creation and editing functions that you'd find in Microsoft Office – on par with the Office suite of tools, yet at a far lower price and with a much wider range of licensing options.
Thinkfree Office NEO
– offers functionally similar editing and content creation tools for Windows-based desktop systems. Thinkfree Office NEO works with both native Microsoft Office file formats as well as Open Document formats. It also converts PDF documents into editable Office documents, provides full document translation features, and more.
Thinkfree Office NEO
provides a complete office suite with "Word" (word processor), "Cell" (spreadsheet), "Show" (presentation) productivity software tools. NEO is highly compatible with the global standard formats including DOC(X), PPT(X), XLS(X), ODT, ODP and ODS. NEO also offers built-in PDF functionality that allows you to edit and convert PDF files to other editable office document formats. The built-in FSL (Font Simulation Library) function offers a similar look and feel to the original document and maintains an orderly layout. Security and office document protection is also provided. Additionally, NEO includes a convenient language translation service and supports multi language sets.
KEY FEATURES
---
A familiar, modern user interface


Create, edit, and share professional-quality documents, spreadsheets, and presentations


Full compatibility with Microsoft Office


View, edit, and share files in Microsoft Office, OpenDocument (ODF) and Portable Document (PDF) formats


Support for essential enterprise run-time features, including SAP Connection, VBA, and Excel macros


Real-time detection of malicious code within documents


Built-in support for document and presentation translation


Built-in support for 14 localized languages: US English / UK English / French / German / Spanish / Dutch / Russian / Portuguese / Arabic / Persian (Farsi) / Chinese (Simplified) / Chinese (Traditional) / Japanese / Korean


Provides native mobile office suite applications for smartphone/tablet (* Eligible for annual licensees)
SYSTEM REQUIREMENTS
---
OS: Windows 7/8/10
Processor: Pentium 4 or higher
Memory: 2GB or higher
Hard Drive: 1GB or higher
Display: Optimal 1280*1024, Minumum 1024*768
---
Thinkfree and Thinkfree Office are registered trademarks of Hancom, Inc. All other trademarks and/or registered trademarks are the property of their respective owners. © Hancom, Inc. All rights reserved
Required configuration
OS: Windows 7/8/10
Processor: Pentium 4 or higher
Memory: 2GB or higher
Hard Drive: 1GB or higher
Display: Optimal 1280*1024, Minumum 1024*768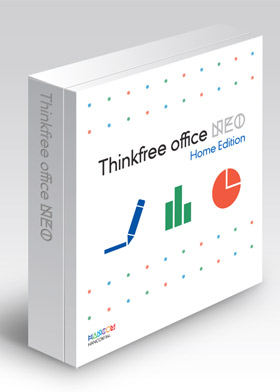 Language:

English

Genre:

Platform:

Win 7 32/64 bits Win 8 32/64 bits Win 10 32/64 bits

Release date:

2016-11-28

Publisher