Power2GO 13 Platinum
About the software
The Ultimate Disc Burning, Authoring & Backup Solution
Power2Go is a simple all-in-one solution for all your disc burning, movie disc authoring, media conversion and backup needs. With unparalleled support for a wide-range of disc & mobile formats, you can drag-n-drop files to instantly burn data or movies. Create impressive DVD and Blu-ray with new authoring features that come with free premium templates & background music. Also protect and backup data with 256-bit military-grade encryption.
Key Features
Movie Disc Authoring
Create Engaging MenusNEW: Author DVD & Blu-ray discs with customizable menus, complete with free background music.
Premium Menu PackNEW: Access 13 professionally designed templates in different themes for any occasion.
Fit More onto Every DiscNEW: Save storage space with Best Quality, Standard Quality and Long Play burning settings.
Convert and Transfer
Supports Popular FormatsNEW: HEVC (H.265) video, HEIC/HEIFC images; audio: MP3, WAV, OGG & APE, FLAC.
TrueTheater EnhancementsUNIQUE: Apply high quality improvements to transferred videos onto any device.
Smart Detect for Mobile: Automatically detect the best format & resolution when converting to mobile devices.
Instant Disc Burning
Burn to any disc: Burn CDs, DVDs, and Blu-ray discs and author Blu-ray or AVCHD movie discs.
Desktop Burning Gadget: Easily drag-n-drop files to instantly burn data or movies in different formats.
Mount and view ISO files: Mount and view disc images even if you don't have a disc drive.
Protect & Backup Online
Backup and protect your Windows system data to a disc or single USB drive, and burn with one-click military-grade encryption for even greater security.
Format
Video
IMPORT: ▪ ASF ▪ AVI ▪ DAT ▪ DVR-MS ▪ H.265/HEVC ▪ FLV (H.264) ▪ M2T (H.264) ▪ M2TS (H.264) ▪ MKV (H.264) ▪ MOV (H.264) ▪ MOD ▪ MP4 (H.264) ▪ MPEG ▪ MPEG-2 ▪ MPG ▪ MTS (H.264) ▪ TS (H.264) ▪ TOD ▪ VOB ▪ VRO ▪ WMV ▪ WTV (single channel)
EXPORT: ▪ MP4 (H.265/HEVC) ▪ MP4 (H.264) ▪ WMV
Audio
IMPORT: ▪ OGG (Vorbis) ▪ APE ▪ DSD Audio (DSF, DFF) ▪ FLAC ▪ M4A (AAC / ALAC) ▪ MP3 ▪ WAV ▪ WMA ▪ Videos with Dolby Digital 5.1 audio soundtracks ▪ Videos with Dolby Digital Plus 5.1 audio soundtrack
EXPORT: ▪ APE ▪ Dolby Digital (2ch stereo, 5.1ch ) ▪ FLAC ▪ M4A (AAC) ▪ MP3 ▪ WAV ▪ WMA
Image
▪ BMP ▪ GIF ▪ JPE ▪ JPEG ▪ JPG ▪ PNG ▪ TIF ▪ TIFF ▪ HEIC ▪ HEIF
Online
system requirements
Windows - Minimum
Operating system: Microsoft Windows 10, 8.1/8, 7
Processor: Data Burning: Intel Celeron 2.0 GHz or AMD Sempron 1.3 GHZ Movie Disc Burning: Intel Core 2 Duo E6400 or AMD Phenom II X2
RAM: 2 GB required (4GB or above recommended)
Graphics card: 128 MB VGA VRAM
Hard drive: 10GB for DVD burning 25GB for Blu-ray Disc burning
Notes: CD/DVD/Blu-ray recordable drive is required for disc burning purposes. Internet connection required for initial software & file format activation, and Online Media backup
Required configuration
Windows - Minimum
Operating system: Microsoft Windows 10, 8.1/8, 7
Processor: Data Burning: Intel Celeron 2.0 GHz or AMD Sempron 1.3 GHZ Movie Disc Burning: Intel Core 2 Duo E6400 or AMD Phenom II X2
RAM: 2 GB required (4GB or above recommended)
Graphics card: 128 MB VGA VRAM
Hard drive: 10GB for DVD burning 25GB for Blu-ray Disc burning
Notes: CD/DVD/Blu-ray recordable drive is required for disc burning purposes. Internet connection required for initial software & file format activation, and Online Media backup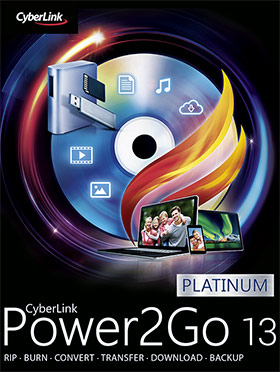 Language:

English

Genre:

Platform:

Win 7 32/64 bits Win 8 32/64 bits Win 8.1 32/64 bits Win 10 32/64 bits

Release date:

2019-08-07

Publisher