Stellar Photo Recovery Standard for Mac V10.0
Stellar Photo Recovery Standard for Mac V10.0
License Validity – 1 Year 1 PC
About the software
Powerful DIY Software to Recover Deleted Photos, Videos & Audio files
Benefits
Recovers Deleted Photos, Videos, & Music Files
Recovers RAW Formats Of Popular DSLR Cameras - Canon®, Nikon®, Sony®
Recovers raster and vector images
Restores files with original date and time stamp
Recovers from formatted and corrupt drives & media
Recovers from encrypted drives & volumes
NEW! Provides Smart Information of drive (Temperature & Health)
Stellar Photo Recovery Standard 10.0 recovers lost photos, videos, and audio files of virtually any format with just 3 simple steps — 'Select', 'Scan', and 'Recover'. It supports commonly used file formats used in DSLRs, camcorders, action cameras, drones, smartphones, iPhones and CCTV etc. The software restores accidentally deleted photos and videos from hard drives, SD cards, USB drives, SSDs and other storage media.
Further, it supports recovery from encrypted volumes; lets you preview found photos, videos & audio files before saving; and allows customized scan process for quick and accurate results.
Additionally, the Stellar Photo Recovery V10.0 for Mac provides SMART information (disk health and temperature) of your storage drives and volumes.
Features
Recovers From All Cameras & Storage Media

The software recovers photos and videos from all types of storage cards used in DSLR, digital cameras, drones, smartphones, and CCTV etc. Plus, you can retrieve media files from internal/ external HDDs, USB drives, memory cards, SD card, SDXC, SDHC, pen drives, and flash drives etc.

Recovers All Types Of Photo, Video & Audio Files

One software to recover virtually all types of photo, audio, and video file formats. If a particular file type is not in the list of supported formats, you can add it by using the Add Header feature. It also recovers uncompressed RAW camera files from Nikon, Sony, Canon, or Fuji, etc.

Customized scan for faster recovery

The software lets you perform selective recovery of photos, videos and audio files. Scan the desired region of the hard drive or volume and select the specific media file types to recover exactly what you want in lesser time.

Scan now, recover later

Stellar Photo Recovery lets you stop the ongoing disk or media scan at any time. You can save the scanned information until then, and resume the recovery process anytime later at your convenience.

Simple and easy interface

The software is very easy to navigate, and seamlessly guides you through the scanning and recovery process. In just 3 simple steps — Select, Scan, and Recover, you get back thousands of lost photo, video and audio files. The installation process is also quick and simple.

Recovers photos & videos from Encrypted Drives

Easily retrieves your lost photos from encrypted drives or partitions. Simply select the encrypted storage drive, click 'Scan' and the software prompts you to enter the password to begin the scan process.

New! Know the health of your storage drive

Stellar Photo Recovery V10.0 provides SMART information of your Mac storage drives. As you hover the cursor over the partition or volume, it displays disk's health and temperature. Knowing the health status of storage drive in advance helps to prevent further data loss, as you can backup photos, videos and other files before your hard disk fails.

Create Image of Selected Media

Stellar Photo Recovery software lets you create a sector-by-sector image of the entire or a selected range of a corrupt drive or media so that the photos, videos and audio files stored on the remaining good sectors can be saved. This image can then be used to recover data by using the software.
system requirements
Mac - Minimum
OS: Mac OS X 10.7 and above
Processor: Pentium Processors
RAM: 2 GB RAM (Minmum) - 4 GB RAM (Recommended)
HDD: 250 MB available space
License validity: 1 Year Subscription
Notes: Languages - English, French, German, Italian, and Spanish
Required configuration
Mac - Minimum
OS: Mac OS X 10.7 and above
Processor: Pentium Processors
RAM: 2 GB RAM (Minmum) - 4 GB RAM (Recommended)
HDD: 250 MB available space
License validity: 1 Year Subscription
Notes: Languages - English, French, German, Italian, and Spanish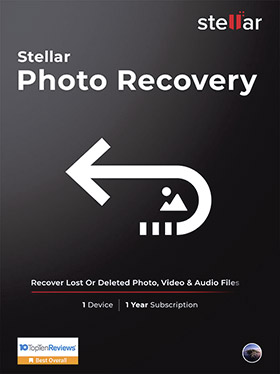 Language:

English

Genre:

Platform:

Release date:

2020-03-30

Publisher